DX DISNEY FAQ'S
Updated 07.05.19
WHO CAN COME?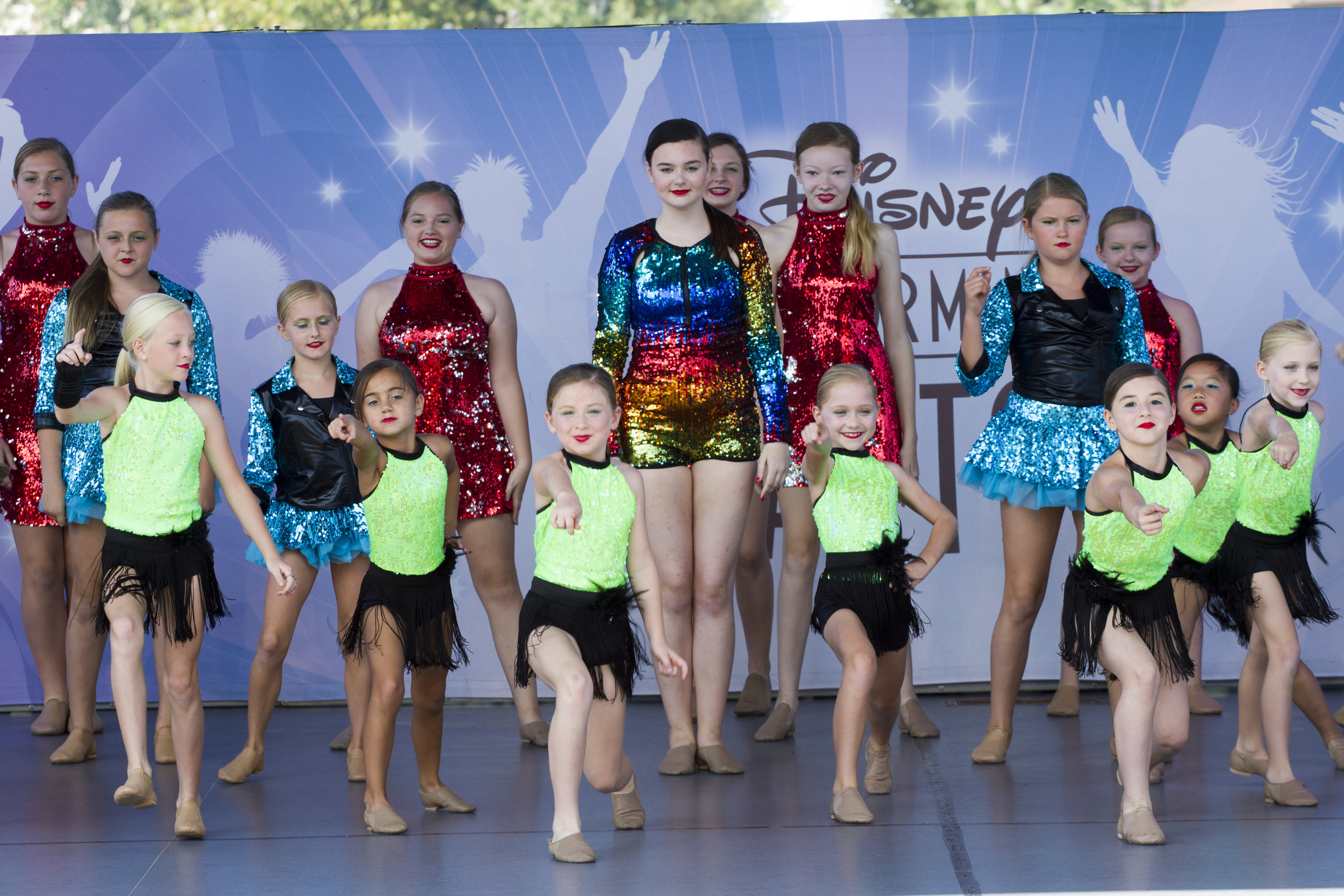 The trip is open to individual families, studios, teams, and guests. We've even had family reunions register, celebrating together while watching a special dancer perform at the most "Magical Place On Earth." Performers, both male and female, ranging in age from 7 to 25 years are welcome. Won't you join us?
When does my dancer have to be seven?
Dancers must be seven years old (7) at the time of the show. This is Disney's policy. You can register him/her before that. Do not choose "dancer" if he/she does not qualify.
CAN CHEERLEADERS ATTEND?
Yes - As long as they can dance! The choreography will not have any cheer stunts within the routine.
CAN I ATTEND WITH JUST MY FAMILY or do i have to come with my studio / team?
Yes - You can come on your own! If your studio or team isn't planning on doing the DX Disney Performance Tour as a group event, you can travel with just your family. Simply register on your own.
DO I NEED MY OWN ACCOUNT?
Yes - every ROOM must have their own account and unique email. If planning on booking multiple rooms, please make sure you register them separately. Email DX Registration Director once the accounts are set-up so we can make a note that they should go together.
HOW DO I REGISTER
Print off the "HOW TO" for step by step instructions on how to set up your account.
WHAT IS IT REALLY GOING TO COST?
Each person attending must purchase a package. Packages are based on the number of people in a room. Dancers are also required to purchase a costume that is theirs to keep. Transportation to Orlando is purchased on your own.
WHAT DOES DX RECOMMEND FOR ARRIVAL AND DEPARTURE TIMES?
If at all possible, plan to arrive early afternoon on Wednesday or a day earlier. The first rehearsal is 6 PM on Wednesday. If flying in on Wednesday, arrive no later than 1 pm. This will allow you time to transfer from the airport to the resort and have a few minutes to get settled before practice. When booking your flight out of Orlando, consider flying out late in the evening or staying an additional night and departing on Monday. Do not plan a flight on Saturday as that is our performance day and we won't know the actual performance time until weeks before the event.
ARE THERE ANY MEALS INCLUDED?
Yes - The tour includes one private party. Additional meals are on your own. DX does not have the option of adding the dining plan to the package.
CAN WE PURCHASE THE DISNEY DINING PLAN?
No - We are unable to offer the dining plan to DX attendees.
WHAT DOES A 1-PARK PER DAY PASS MEAN?
All DX guests receive a 4-day / 1-park per day admission ticket. This allows individuals to attend one park per day. Guests may come and go as many times as they like but only at the same park. Upgrades to PARK HOPPERS will be available.
WILL MY PARK TICKETS EXPIRE?
Yes - Your tickets will be dated roughly 1 week before our tour date begins and expire roughly 1 week after. Make sure you use all 4 days.
DO I NEED A PARK TICKET FOR THE PERFORMANCE DAY?
No - our special performance takes place at Disney Springs. No park tickets are needed to view this amazing show.
DO I NEED TO SAVE A PARK TICKET FOR THE GROUP EVENT?
Yes - our group special event takes place at a park. You will need your park ticket to attend.
WHAT IF I'M STAYING MORE THAN FOUR DAYS / FIVE NIGHTS?
DX has a limited supply of hotel rooms available before and after our tour dates. Specify your needs on the initial registration form to secure additional lodging. Guests may also purchase additional park-hopper days for pennies on the dollar. More information may be found under "Packages." Not sure at the time you make your reservation? That's fine. Book the TOUR dates and then add dates once confirmed. It's easier to ADD a date then subtract it later.
WHAT IF I HAVE FIVE PEOPLE IN MY FAMILY?
Disney does not allow more than four people to a room. You will need to book an additional room to accommodate your family OR place a family member in another room with friends. If the fifth person is a child under two, you could book one room. List them as well and include their age under Notes For Room. Disney has a small number of adjoining/connecting rooms that they reserve for families needing two rooms.
DOES THE DIRECTOR/COACH NEED TO BOOK A ROOM?
Yes - make sure you make your own reservation and get into the system to secure a room. Contact DX directly for further instructions. (763) 792-8989,
DO I NEED A PACKAGE FOR MY TWO YEAR OLD?
No - Children two and under do NOT need to purchase an entire package. However, please include them on our registration system so we can provide them with an event t-shirt.
CAN I USE MY TIMESHARE OR BOOK A HOTEL ON MY OWN?
All dancers are required to stay with the group and purchase a package. Parents may make their own travel arrangements, as long as your son/daughter is staying in a room with another dancer and chaperone. Note that all package inclusions, including the private party, may not be purchased a la carte. If you book on your own, then you'll need to purchase your own park tickets, etc.
HOW DOES THE DISNEY MAGICAL EXPRESS WORK?
Disney's Magical Express is a complimentary benefit available to Guests of select Disney Resort hotels. Resort Airline check-in service is also complimentary if you are staying at a select Disney Resort hotel and are also traveling on a participating airline. DX attendees are required to secure their own Magical Express reservations online. You'll need your confirmation number and flight details so have them ready. Check out more FAQ's regarding Disney's Magical Express here. One you arrive in Orlando, you'll proceed to the baggage claim level and follow signs to Disney's Magical Express. Be sure to bring your Magic Band or hotel confirmation number with you. This is all you'll need to board the bus. Your luggage will arrive later (could be 6 hours or more) so be sure to bring shorts and a swim suit in your carry on so you can enjoy the pool when you arrive.
HOW DO YOU PULL TOGETHER THE ROUTINE?
Dancers are put into groups by age. DX choreographs the routine with all ages in mind. The routine is simple and repetitive, but very entertaining. The 12-15 minute continuous show features dancers performing multiple times throughout the routine. The routine is choreographed ahead of time and sent out with instructions. All formations and transitions are taught on site during rehearsals.
HOW MUCH TIME DO WE PRACTICE?
Prior to our departure (approximately one week before), DX will plan an OPTIONAL rehearsal in the Twin Cities area for the local dancers. This is not required. ALL DANCERS must attend the MANDATORY first rehearsal on Wednesday evening at 6 PM sharp. We will run through the routine as a group and see how well everyone knows the material. From there, we will begin incorporating transitions and formation changes. Additional rehearsals are scheduled throughout the trip and sent out ahead of time so you can plan your days accordingly. Dancers who do not know the routine will be pulled from the show without refunds. It is the dancer's responsibility to come prepared knowing the material.
WHEN CAN I MAKE FAST PAST RESERVATIONS?
Fast Pass reservations may be made online through the MY DISNEY EXPERIENCE personal page 60 days before you arrive. You will need your park pass number. DX will mail these to the group contact before the 60 days to ensure you are able to make your reservations.
WHEN CAN I MAKE DINING RESERVATIONS?
Dining reservations may be made 180 days before you arrive. You will need your hotel confirmation number. DX will send this once your account is paid in full. Dining reservations are recommended for special events like Character breakfasts, dining with the Princesses, etc. You make reservations through MY DISNEY EXPERIENCE or by calling 407-939-DINE.
HOW DOES THE DISNEY TRANSPORTATION WORK?
It's wonderful! You literally go out in front of your hotel and jump on a bus to whichever park you want. You can also take advantage of the ferries, park buses, and the monorail system. Ask the concierge at the hotel what is the best way to get to your final destination. It's easy and simple. You should know that if you do decide to drive yourself, Disney does charge for parking.
HOW DO I SIGN UP?
Simply go online to register and pay your non-refundable deposit. Make your selection based on the number of people in your room. This event does fill up so register early to secure your spot early. Registration opens on July 1st.
HOW LONG HAS DX BEEN BRINGING FAMILIES TO DISNEY WORLD?
This will be our 17th tour to Walt Disney World. We've got it down. You can take our itinerary recommendations or create your own one-of-a-kind schedule.
DO WE NEED CHAPERONES?
DX requires one (1) chaperone per every 15 dancers. Chaperones must be 19 years or older.
ARE THERE ANY PERKS FOR DIRECTORS/COACHES?
Yes - Contact DX today over the phone to hear all about it! (763) 792-8989
FUNDRAISING IDEAS
Yankee Candle

Heggies Pizza

Butterbraids

Chipolte

Buffalo Wild Wings

Double Good Popcorn

Holiday Wreaths & Poinsettias

Spaghetti Dinner